3/3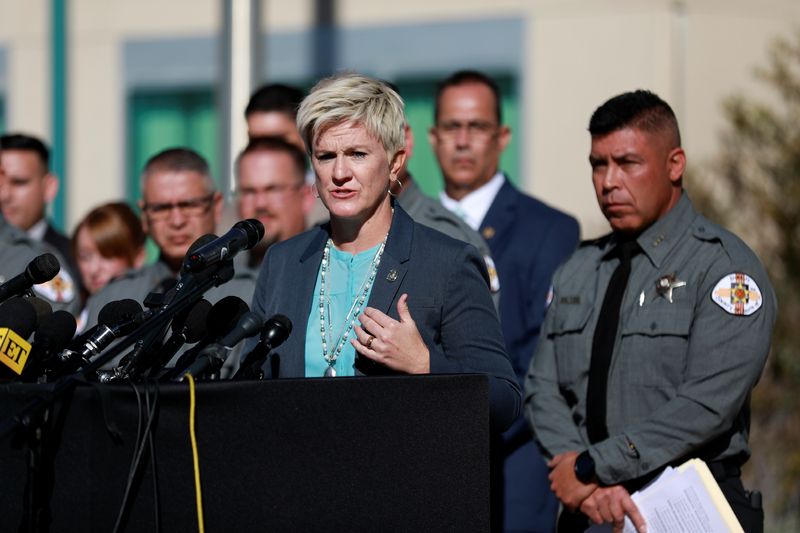 © Reuters. FILE PHOTO: District attorney Mary Carmack-Altwies speaks at a news conference after actor Alec Baldwin accidentally shot and killed cinematographer Halyna Hutchins on the film set of the movie "Rust" in Santa Fe, New Mexico, U.S., October 27, 2021. REUT
By Andrew Hay and Brendan O'Brien
TAOS, N.M. (Reuters) -Actor Alec Baldwin faces involuntary manslaughter charges in the fatal shooting of cinematographer Halyna Hutchins during the 2021 filming of Western "Rust" in New Mexico.
Santa Fe's top prosecutor Mary Carmack-Altwies said in a statement Thursday that the film's armorer, Hannah Gutierrez-Reed, would also face involuntary manslaughter charges.
Hutchins' family welcomed the announcement. In a statement, Baldwin attorney Luke Nikas said, "this decision distorts Halyna Hutchins' tragic death and represents a terrible miscarriage of justice."
The announcement followed more than a year of investigation after a pistol was fired in October 2021 as Baldwin, 64, was rehearsing with it on the set of his movie "Rust" outside Santa Fe.
According to a police report, David Halls, the assistant director who handed the gun to Baldwin, did not know it contained live rounds. Halls signed a plea agreement for the charge of negligent use of a deadly weapon, Carmack-Altwies said in her statement. Set armorer Gutierrez Reed had handled the gun before Halls.
"After a thorough review of the evidence and the laws of the state of New Mexico, I have determined that there is sufficient evidence to file criminal charges against Alec Baldwin and other members of the 'Rust' film crew," Carmack-Altwies said, adding charges would be filed by month's end. "On my watch, no one is above the law, and everyone deserves justice."
The movie's director, Joel Souza, was hit and wounded by the same .45-caliber bullet that killed Hutchins.
Prosecutors must prove on-set firearm safety began with Gutierrez Reed, who was in charge of weapons; applied to Halls, who checked the gun and handed it to Baldwin, then extended to the actor, who also was a producer on the film.
Baldwin and Gutierrez-Reed will be charged "in the alternative" with two counts of manslaughter, meaning a jury will decide not only if they were guilty, but under which definition of involuntary manslaughter, the prosecutor said.
Simple involuntary manslaughter for negligence is punishable by up to 18 months in jail and a $5,000 fine. Should prosecutors prove there was more than simple negligence involved in the use of a firearm, they could face a five-year jail term.
Baldwin has denied responsibility for Hutchins' death and said live rounds should never have been allowed onto the set of the low-budget movie. Halls told Baldwin the gun was "cold," an industry term meaning it is safe to use, according to police records. It remains unclear how live ammunition got on the set.
"Mr. Baldwin had no reason to believe there was a live bullet in the gun — or anywhere on the movie set. He relied on the professionals with whom he worked, who assured him the gun did not have live rounds. We will fight these charges, and we will win," his attorney Nikas said.
In a statement released on behalf of the Hutchins family, lawyer Brian Panish said their own investigation also found charges were warranted.
"It is a comfort to the family that, in New Mexico, no one is above the law," the statement added. "We support the charges, will fully cooperate with this prosecution, and fervently hope the justice system works to protect the public and hold accountable those who break the law."
The family sued Baldwin in 2021 alleging the Emmy-winning "30 Rock" and "Saturday Night Live" actor had a responsibility to check the gun did not contain live rounds, not point it at the cinematographer, and not cock the weapon and pull the trigger.
The family subsequently reached a settlement in which Matt Hutchins became an executive producer of "Rust" and production was set to resume early in 2023 outside New Mexico.
Baldwin told ABC News in 2021 he did not pull the trigger of the replica Pietta .45-caliber long Colt revolver and it fired after he cocked it while rehearsing camera angles with Hutchins.
An FBI forensic test of the revolver found it "functioned normally" and would not fire without the trigger being pulled.
New Mexico's worker safety agency in April fined the film's production company $137,000 the maximum amount possible for what it described as "willful" safety lapses leading to Hutchin's death.
The agency found Rust Move Productions LLC knew firearm safety procedures were not being followed and showed "plain indifference" to the hazards.