2/2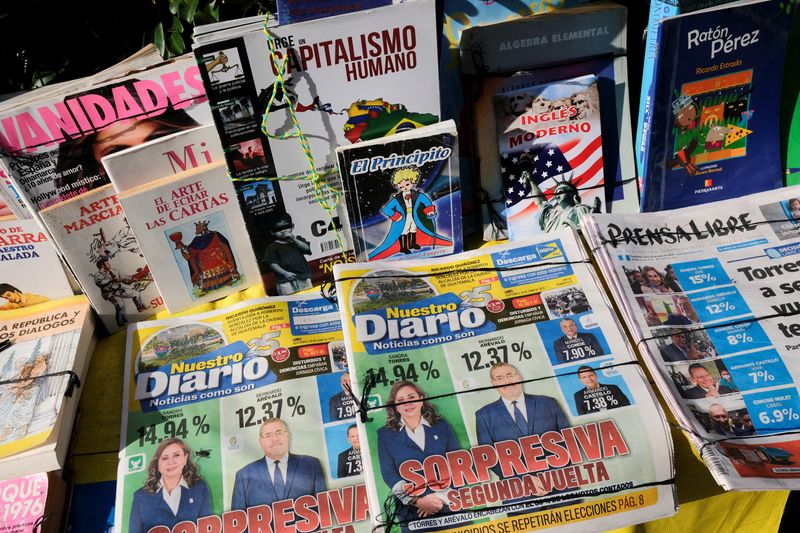 © Reuters. Newspapers are seen at a kiosk a day after the first round of Guatemala's presidential election, in Guatemala City, Guatemala June 26, 2023. REUTERS/Josue Decavele
By Sofia Menchu and Dave Graham
GUATEMALA CITY (Reuters) – Guatemalans fed up with persistent graft scandals on Sunday catapulted an unheralded anti-corruption candidate into a run-off for the presidency, raising hopes of a renewed drive to clean up government after years of frustration.
Bernardo Arevalo, an ex-diplomat and son of former president Juan Jose Arevalo, defied poll forecasts to finish runner-up in the first round of voting in Guatemala's presidential election, throwing a major surprise into what had been written off as a stale election between establishment political operators.
Arevalo, 64, is the standard-bearer of the center-left Semilla, a party founded in 2017 whose previous contender, Thelma Aldana, was a crusading attorney general instrumental in the arrest and prosecution for corruption of now jailed former president Otto Perez.
"This is a guy who was polling at 0.7% just a few weeks ago," said Will Freeman, a fellow for Latin America studies at the Council on Foreign Relations, who credited Arevalo's success partly on the narrowing of the opposition field after multiple candidates were barred from running.
"The Guatemalan elite helped unite the opposition by getting rid of all the other viable challengers," he said.
In further evidence of voter frustration with the status-quo, nearly a quarter of ballots counted were either spoiled or left blank. Businessman Carlos Pineda, the early front-runner, urged supporters to spoil their vote after he was barred from standing.
Hugo Novales, an independent political analyst in Guatemala, said the high number of spoiled ballots and voters unhappy with the current system could benefit Arevalo in the Aug. 20 second round.
Arevalo, who has called corruption a "cancer eating away" at Guatemala, will face former first lady Sandra Torres in the run-off. Torres, running in her third presidential contest, won 15.8% of the first-round vote to Arevalo's 11.8%.
The second-round campaign could put the spotlight on cleaning up politics.
Arevalo has vowed to "purge institutions co-opted by the corrupt" and to bring back to Guatemala people committed to what he called the fight for justice.
"One of our objectives is to bring back all the prosecutors, judges and journalists who have been persecuted unjustly by this regime and who find themselves in exile," Arevalo told reporters.
Arevalo has also promised to spur competition in the economy, which is dominated by a tight-knit elite.
Torres, who leads the center-left National Unity of Hope (UNE), fell foul in 2019 of the now defunct U.N.-backed International Commission Against Impunity in Guatemala (CICIG), which accused her of breaking campaign finance rules and illicit association.
In the end the case against Torres, who spent four months under arrest, was dropped for lack of evidence. She denies all wrongdoing.
Opinion polls have suggested that the 67-year-old Torres will struggle to win the run-off given her unpopularity in the capital, Guatemala City, home to a high percentage of the electorate.
"I think that as long as Torres' anti-vote stays high, around 41%, my money is on Arevalo," said Freeman.
TACKLING ELITES
A renewed drive to tackle corruption would likely face stiff resistance from powerful interests.
Semilla's previous presidential contender, attorney Aldana, was ultimately prevented from running in 2019 by Guatemala's top court due to allegations of financial wrongdoing which she said were politically motivated because of her work with the CICIG.
Aldana later sought asylum in the U.S. while President Alejandro Giammattei brought an end to CICIG after himself becoming embroiled in corruption allegations, which he denies.
The potent legacy of the corruption-busting group continues to inspire anti-graft campaigners in Guatemala.
Arevalo has also said he sees himself as continuing the work of his leftist father, Juan Jose, who ushered in a decade of democratic and economic reforms that angered the ruling elite and saw his successor ousted in a U.S.-backed military coup in 1954.
Under outgoing president Giammattei, tensions with the U.S. have flared up over resistance by the administration to tackling corruption.
Giammattei's government has been mired in graft scandals and Guatemala slumped to an all-time low on watchdog Transparency International's latest corruption perceptions index.
Some see hopes for a positive change.
The former head of CICIG, Ivan Velasquez, now Colombia's defense minister, congratulated Guatemala on Twitter after the election and quoted words from late Guatemalan poet and human rights activist Julia Esquivel.
"You can cut all the flowers, but spring will always return. You will blossom, Guatemala."