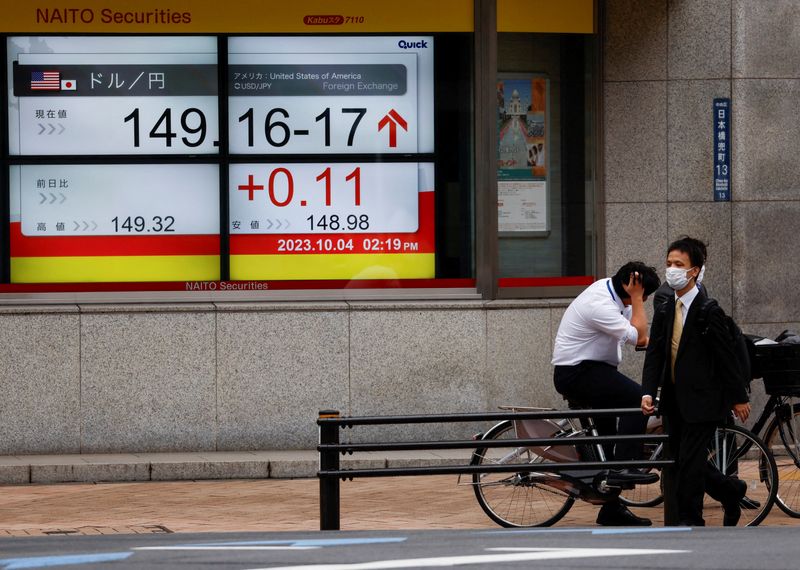 © Reuters. FILE PHOTO: Passersby walk past an electric monitor displaying the Japanese yen exchange rate against the U.S. dollar outside a brokerage in Tokyo, Japan October 4, 2023. REUTERS/Issei Kato/File Photo
By Ankur Banerjee
SINGAPORE (Reuters) – Asian equities eased on Tuesday, while the yen remained close to a two-week high as traders braced for the Bank of Japan's policy decision when it is likely to lift its inflation forecasts and ponder tweaks to its bond yield control.
The yen weakened 0.19% to 149.38 per dollar but was not far from the two-week peak of 148.81 it touched on Monday after the Nikkei newspaper reported the BOJ would consider making adjustments to its yield curve control (YCC).
The BOJ sets a target of around 0% for the 10-year yield under YCC. Under criticism that its heavy defence of the cap is causing market distortions and an unwelcome yen fall, it raised its de-facto ceiling for the yield to 1.0% from 0.5% in July.
On Tuesday, the 10-year JGB yield jumped 6.5 basis points to 0.955%, its highest since May.
"Markets seem to assume that the ceiling will be lifted by another 50 basis points, but I think the possibility of another doubling (i.e. to 2%) in the ceiling amounting to a de facto removal is under-appreciated," said Nicholas Chia, macro strategist at Standard Chartered (OTC:).
"That said, the way foreign currency markets are behaving suggests any move today on YCC may only cap but not reverse the yen weakness," Chia said.
The , which measures U.S. currency against six rivals, rose 0.104%. Sterling was last trading at $1.2151, down 0.14% on the day, while the euro was down 0.09% to $1.0603.
STOCKS DIP IN ASIA
Stocks in Asia were slightly weaker, with MSCI's broadest index of Asia-Pacific shares outside Japan 0.24% lower, while was 0.23% lower.
The was 0.06% lower, while Hong Kong's fell 0.39%.
Overnight, all three major U.S. stock indexes closed up more than 1%, with interest rate sensitive megacap stocks providing the most upside muscle. [.N]
Third-quarter earnings season has reached its halfway point, with 251 companies in the having reported. Of those, 78% have beaten Wall Street estimates, according to LSEG.
Investor focus this week will mainly be on the major central bank meetings, with the U.S. Federal Reserve and Bank of England also due to meet along with BOJ.
On Tuesday, the Federal Open Markets Committee (FOMC) will convene for a two-day monetary policy meeting, which is expected to culminate in a decision to let the Fed funds target rate stand at 5.25%-5.50%.
The Fed's meeting comes after a slew of data showed the U.S. economy remains resilient and comments from Fed Chair Jerome Powell will be scrutinized to gauge how long the interest rates are likely to stay elevated.
"It is evident that the U.S. economy is operating at full throttle, marked by remarkably low unemployment levels. However, this level of growth also exacerbates the spectre of inflation," said Gary Dugan, CIO at Dalma Capital.
"While the Federal Reserve may not make any rate adjustments this week, the possibility of a rate hike in the following meeting is certainly on the table."
The Treasury Department on Monday said it expects to borrow $76 billion less this quarter than anticipated in the third quarter on expectations of higher revenue receipts.
The yield on was up 1.1 basis points to 4.888%, while the yield on the 30-year Treasury bond was up 0.7 basis points to 5.042%.
rose 0.45% to $82.68 per barrel and was at $88.14, up 0.79% on the day. [O/R]
Gold prices were flat on Tuesday after slipping below the $2,000/ounce milestone in the last session. was steady at $1,995.69.