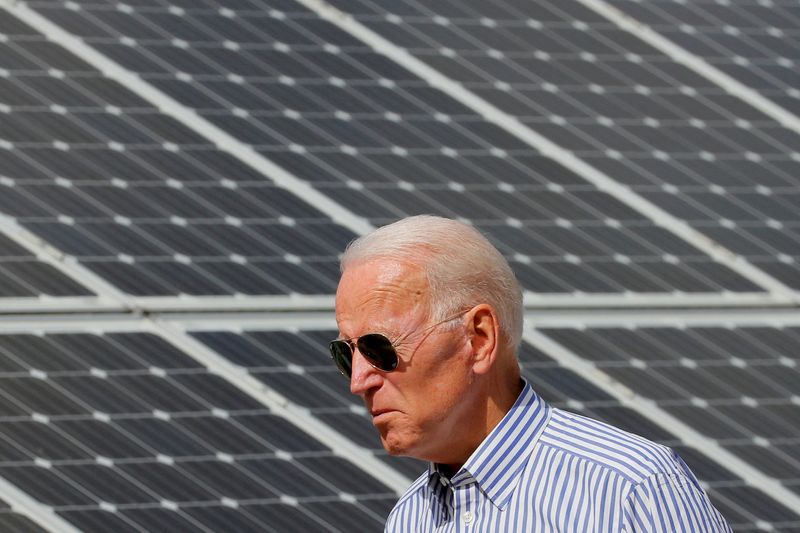 © Reuters. FILE PHOTO: Joe Biden walks past solar panels while touring the Plymouth Area Renewable Energy Initiative in Plymouth, New Hampshire, U.S., June 4, 2019. REUTERS/Brian Snyder/File Photo
By Jeff Mason, Jarrett Renshaw and Gram Slattery
WASHINGTON (Reuters) -President Joe Biden's legal team found a second set of classified documents dating from his time as vice president at his Delaware home, the White House said on Thursday, an embarrassment as he prepares for an expected re-election bid.
The admission about the discovery in a storage space in the garage of Biden's Wilmington home came in a statement from Richard Sauber, a special counsel to the president. The acknowledgement came after the White House on Monday said other documents were found in November in the closet of an office at a University of Pennsylvania think tank in Washington that Biden had used after leaving the vice presidency.
A special counsel appointed in November by Attorney General Merrick Garland, a Biden appointee, is considering whether to charge Republican former President Donald Trump for having taken classified documents from the White House when he left office in 2021 and having refused to turn them over for months.
One distinction between the two cases is that Biden's attorneys said they turned the papers over when they located them, while Trump resisted until an August FBI search, leading to questions of whether he or his staff obstructed the investigation.
Biden in September called Trump's handling of classified documents "totally irresponsible." Republicans in Congress called the new discoveries evidence of Biden's hypocrisy.
"It's obvious. Everybody can see it, and it's on open display for everyone in the country to see," Republican U.S. Representative Mike Johnson said. "Why has the Department of Justice not come in force as they did against the allegations against President Trump?"
Biden told reporters on Thursday that he will get chance to speak on "all of this soon," before reading from a prepared statement that echoed the information the White House put out a few minutes earlier.
"As I said earlier this week, people know I take classified documents, classified material seriously. I also said we're cooperating fully and completely with the Justice Department's review," Biden said.
Biden said his legal team discovered a small number of documents with classified markings in storage areas and file cabinets in his personal library at his Wilmington home. The library is attached to his garage, which Biden said is locked.
The White House has not said whether any more searches are ongoing or how the documents ended up in either location.
Trump kept thousands of government records, hundreds of which were marked as classified, inside his personal residence in Florida for more than a year after departing the White House, and did not return them immediately or willingly despite numerous requests by the National Archives.
When he finally handed over 15 boxes of records in January 2022, the Archives discovered more than 100 marked as classified. It referred the matter to the Justice Department in the spring and a special counsel, Jack Smith, was named in November to oversee the investigation.
Investigators tried to get Trump to return any remaining classified records through a grand jury subpoena and a visit to Trump's Mar-a-Lago estate in Palm Beach, Florida. On that visit, Trump's advisers returned a few dozen additional classified records, and attested that no other classified material remained in the residence.
Suspecting possible obstruction of justice, the FBI sought and obtained court approval in August to search his home, where agents found more than 13,000 additional records, about 100 of them classified.
Democratic Representative Joaquin Castro highlighted the differences.
"Donald Trump intentionally hid classified documents and then refused to return them when he was asked to return them," Castro said. "That's very different from a former president, perhaps not realizing that those documents were classified, marked as classified, and then making an effort himself in his office to return them to the federal government."