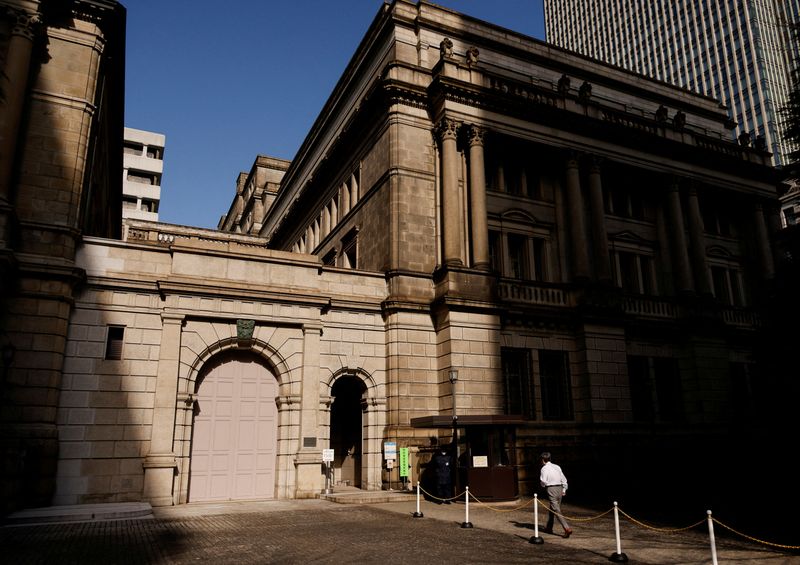 © Reuters. FILE PHOTO: A man walks at the headquarters of Bank of Japan in Tokyo, Japan, January 18, 2023. REUTERS/Issei Kato/File Photo
By Leika Kihara
TOKYO (Reuters) -Some Bank of Japan (BOJ) board members said domestic inflation might hold above the central bank's 2% target, minutes of their June policy meeting showed, providing insight into BOJ's move last week to let some rates rise along with increasing prices.
While one member called for a review of the bank's bond yield control policy "at an early stage," members agreed they did not need to do so for now with market function having improved somewhat, the minutes showed on Wednesday.
"Many members said bond market function was improving with distortion in the shape of the yield curve fixed," according to the minutes.
The discussion highlights how the board did not see an imminent need to tweak yield curve control (YCC) in June, but decided to do so last week based on changes in market and inflation developments since then.
At the June 15-16 meeting, the BOJ maintained its ultra-easy monetary policy and dovish guidance pledging to "patiently" sustain stimulus to achieve its price target.
At a subsequent meeting last week, the bank jolted markets by making tweaks to allow bond yields to rise more freely in line with increasing inflation though it maintained its ultra-low policy rates.
The policy tweak, however, was not a prelude to an exit from ultra-low interest rates, BOJ's deputy governor Shinichi Uchida said on Wednesday.
Debate at the June meeting focused on whether inflation, which had been exceeding the BOJ's 2% target for roughly a year, was still a temporary cost-push phenomenon, or already turning into sustainable price gains backed by domestic demand.
While some said they expected inflation to slow back below 2% as cost-push factors dissipate, one member said the risk of inflation staying elevated above the level "remained high."
Several board members said service prices were rising in a sign domestic factors were playing an increasing role in pushing up Japan's inflation, the minutes showed.
"We cannot rule out the chance we are underestimating the sustainability of inflation in Japan," one of the nine board members was quoted as saying in the minutes.
The outlook for medium- and long-term inflation expectations was crucial to how the BOJ operates YCC, another member said.
Japan's core consumer inflation rose 3.3% in June from a year earlier to stay above the BOJ's 2% target for the 15th straight month, as companies continued to hike prices to pass on rising raw material costs.