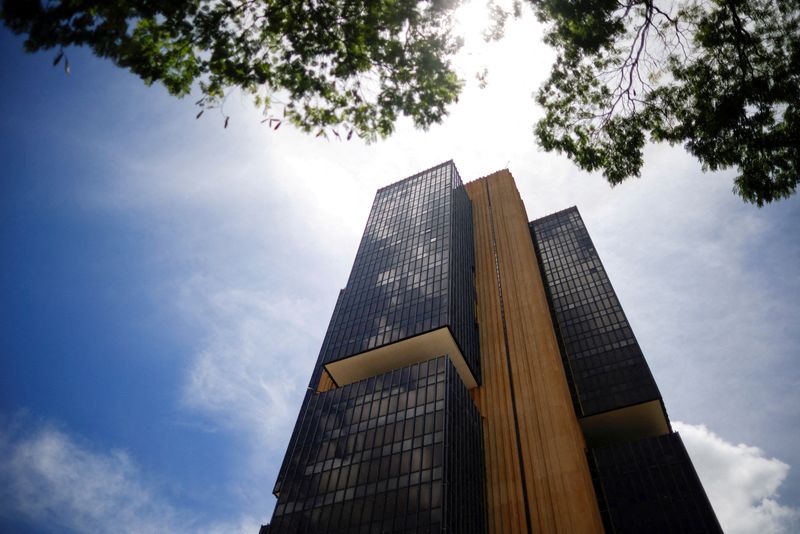 © Reuters. FILE PHOTO: A general view of the Central Bank headquarters building in Brasilia, Brazil February 14, 2023. REUTERS/Adriano Machado/File Photo
BRASILIA (Reuters) -The Brazilian Senate on Tuesday approved President Luiz Inacio Lula da Silva's first picks for the independent central bank, an institution he has clashed with since taking office in January.
Former finance ministry official Gabriel Galipolo's nomination for director of monetary policy was approved by a vote of 39 to 12 in the Senate's plenary. The nomination of central bank official Ailton de Aquino for supervising director was approved by 42-10.
Earlier on Tuesday, Galipolo and Aquino had been approved by the Senate Economic Affairs Committee. Galipolo told a committee hearing that his government has set the stage for easier monetary policy.
Lula, who has criticized the bank for long holding its interest rate at a cycle high of 13.75%, will eventually replace all nine members of the bank's board, which decides monetary policy.
Galipolo, former executive secretary of the Finance Ministry, told the hearing that Lula's team has implemented measures that could lead to monetary easing.
"The market is already anticipating lower interest rates and future rate cuts," he said.
Addressing the issue of foreign reserves, whose management would fall under his responsibility in the new role, Galipolo highlighted Brazil's advantage compared to neighboring countries facing potential balance of payments crises.
Brazil currently holds over $340 billion in foreign reserves, which have provided a "much greater" degree of economic policy freedom, serving as a "significant buffer against external shocks."
Galipolo also hailed prospects for a common currency for Brazil and other trading partners, without specifying who they would be, saying the proposal was not to replace national currencies but to establish a unit to facilitate trade relationships between countries.
Current central bank chief Roberto Campos Neto has criticized the common currency plan, which Lula has already mentioned as an alternative aimed at enhancing trade within both the Mercosur trade bloc and the BRICS group, comprising Brazil, Russia, India, China, and South Africa.
Aquino emphasized that improved projections by private economists for economic growth and inflation demonstrate the agents' confidence in the current government's economic management.
Campos Neto, picked by former President Jair Bolsonaro, will complete his term in December 2024 under an autonomy law passed in 2021.