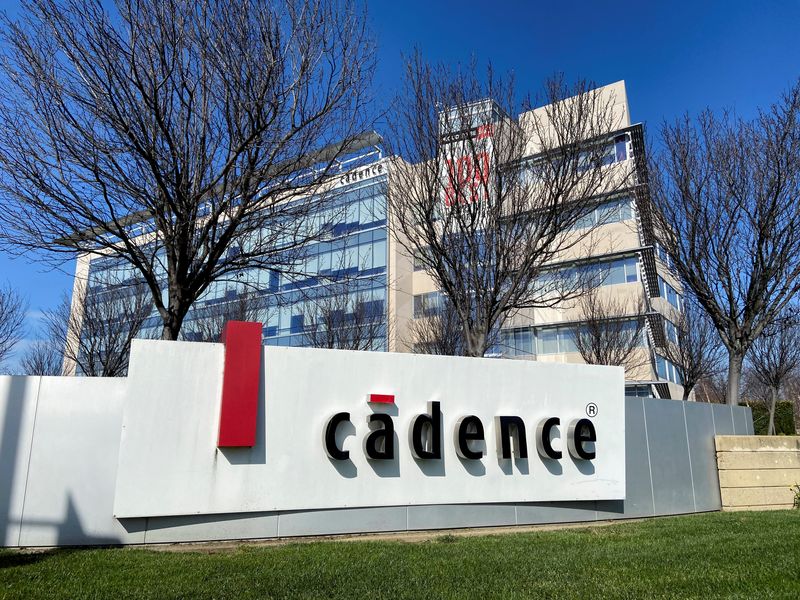 © Reuters. The logo of Cadence Design Systems is pictured outside the company's offices in San Jose, California, U.S., January 31, 2020. REUTERS/Stephen Nellis
By Tanya Jain and Stephen Nellis
(Reuters) – Cadence Design (NASDAQ:) Systems Inc on Monday raised its full-year revenue forecast to slightly above Wall Street estimates, as a surge in artificial intelligence (AI) innovation fueled demand for custom semiconductor design.
Demand for the software used to design chips has risen even amid a cyclical downturn for the industry as chipmakers and tech giants like Alphabet (NASDAQ:) rush to create their own semiconductors needed for AI processing.
But the company's current quarter forecast had a midpoint slightly below analyst estimates, sending shares down 4.4% at $230.60 in after-hours trading.
Chip designers such as Nvidia (NASDAQ:), Arm and Advanced Micro Devices (NASDAQ:) also use Cadence's design tools to develop semiconductors used in both handheld devices and servers that process data for AI.
Cadence forecast full-year revenue between $4.05 billion and $4.09 billion, largely above analysts' average estimate of $4.06 billion, according to Refinitiv data. The company's earlier estimate was for $4.03 billion to $4.07 billion.
It expects adjusted earnings per share for 2023 between $5.05 and $5.11, beating expectations of $5.03 per share.
Revenue stood at $976.6 million for the quarter ended June 30, above estimates of $974.9 million. But the company gave a revenue forecast range of $990 million to $1.01 billion for the current quarter, with the midpoint of $1.0 billion falling slightly below Refinitiv estimates of $1.01 billion.
Like its rival Synopsys (NASDAQ:) Inc, Cadence is hoping to benefit from AI in at least two ways: first, by providing tools to design chips for AI; and second, by adding AI into its own software to help in the complex process of designing chips.
Chief Executive Anirudh Devgan said one of the company's large customers recently used its AI software to improve chip power efficiency. On a conference call with analysts, Devgan said more customers are adopting those AI tools.
"This is going to take some time, which is part of the natural process of trying and deploying" new technologies, Devgan said.
(This story has been corrected to reflect that the midpoint of the third quarter revenue forecast is $1 billion, not $995.5 million, in paragraph 7)