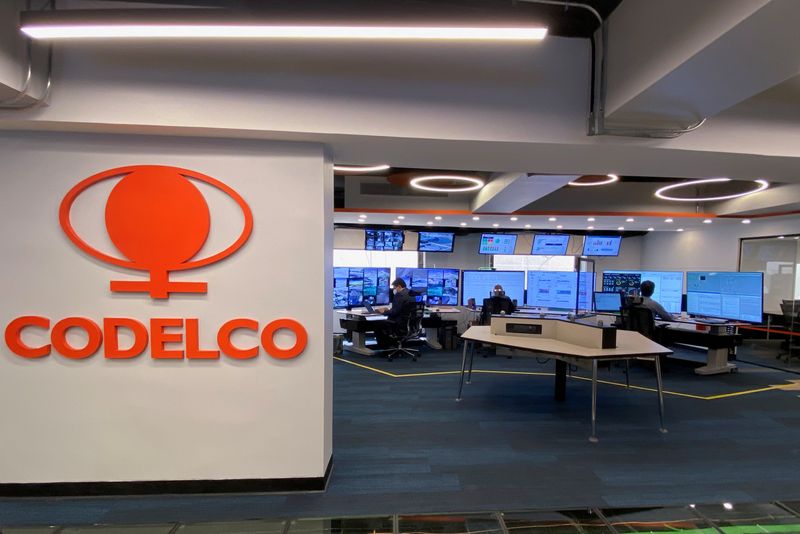 © Reuters. A virtual operations center of Chile's state-owned Codelco, the world's largest copper producer, is seen during its inauguration in Santiago, Chile, December 1, 2021. REUTERS/Fabian Cambero
SANTIAGO (Reuters) -Chile's state miner, Codelco, on Friday cut its output forecast for 2023 and said it expects more halts in production during the second half of the year, following months of declines.
The miner expects to have a yearly production of between 1.31 million-1.35 million metric tons from 1.35 million-1.45 million tons previously forecast, it said on Friday, as it reported that pretax profit fell 86% in the first six months of this year.
The new forecast follows a recent rock explosion accident in its biggest mine, El Teniente, which has affected parts of the area's project developments and a productive area in the north of the mine, it said. This will hamper production in the remainder of the year, it added.
The miner's pretax profit landed at $329 million for the first half of 2023, while its copper output slipped 14% year-on-year to 633,000 metric tons, extending a slowdown reported in the first three months of the year.
Codelco's average copper sales prices fell 3% and sales volumes shrank 11.3%, while direct production costs rose 41.3% to hit about $2.12 per pound, from $1.506 the year before.
Codelco, whose production fell to its lowest level in a quarter-century last year, has faced a series of adverse weather and operational problems, including the death of a contract worker at El Teniente in June.
The company has also been tasked with leading talks with private companies in Chile's push to increase state control over the country's vast lithium industry.
Chile is the world's top copper-producing country and No. 2 for lithium, key to powering the booming electric vehicle industry, though Codelco does not mine any lithium.
Chief Executive Andre Sougarret recently decided to step down by the end of August. Codelco has yet to name a successor.