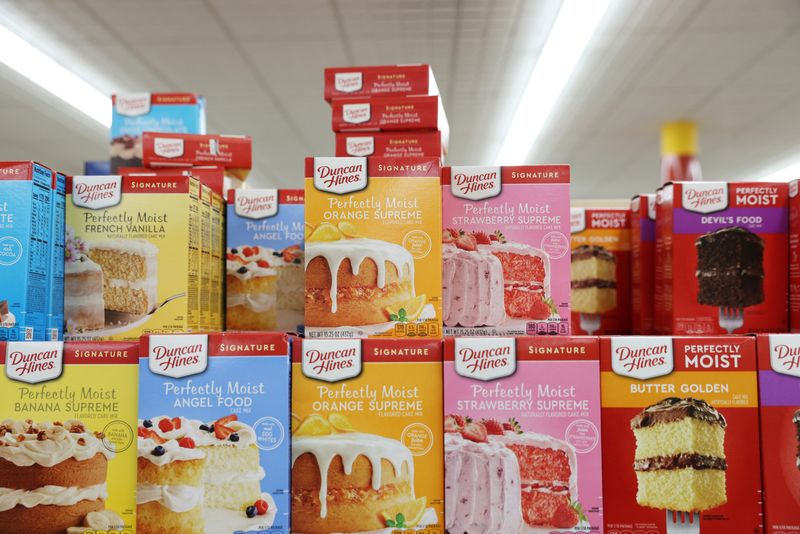 © Reuters. Packets of Duncan Hines, a brand owned by Conagra Brands, are seen in a store in Manhattan, New York, U.S., November 15, 2021. REUTERS/Andrew Kelly
By Granth Vanaik and Jessica DiNapoli
(Reuters) -Conagra Brands Inc raised its full-year forecasts on Thursday, after beating quarterly results, helped mainly by higher prices for its snacks and ready-to-eat meals.
Packaged food makers have undergone several rounds of price increases in the past year to shield their profit margins from higher costs, which people have accepted as they find eating out far more expensive than cooking at home.
One of the big reasons why demand elasticity has been muted for the last year or so is essentially because consumers have shifted to eating more at home than outside, said Conagra Chief Executive Sean Connolly in an interview with Reuters.
"If we enter a recession, that dynamic will stay intact, if not increase, meaning, consumers will rely (more) on at-home eating," he added.
Shares of the company, known for its brands Birds Eye and Chef Boyardee, rose about 2% in afternoon trade.
Conagra's upbeat results follows Campbell Soup (NYSE:) Co and General Mills Inc (NYSE:)'s, who have also echoed in recent months that price hikes have not yet dented demand significantly for them.
On Thursday, Conagra forecast a 7% to 8% rise in full-year 2023 organic sales, excluding impact from foreign exchange, divested businesses and acquisitions, compared with the previous expectation of 4% to 5% growth.
The company now expects adjusted profit per share for 2023 to rise between 10% and 14%, compared with 1% to 5% growth it had forecast earlier.
"The magnitude of the beat and raise is a positive surprise," said analyst Cody Ross from UBS in a research note.
Conagra earned 81 cents per share on an adjusted basis in the second quarter ended Nov. 27, above analysts' estimate of 66 cents, according to Refinitiv IBES data.