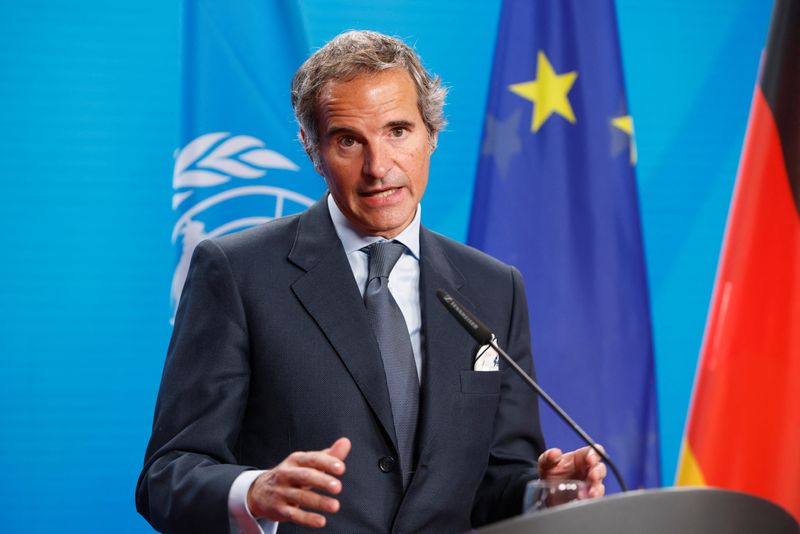 © Reuters. FILE PHOTO: International Atomic Energy Agency (IAEA) Director General Rafael Grossi speaks during a news conference with German Foreign Minister Annalena Baerbock (not pictured) at the Foreign Ministry in Berlin, Germany November 15, 2022. REUTERS/Michel
ROME (Reuters) – Brokering a deal on a safe zone around Ukraine's Russian-controlled Zaporizhzhia nuclear power plant is getting harder because of the involvement of the military in talks, the head of the U.N. nuclear watchdog said on Wednesday.
The Soviet-era plant, Europe's largest, was captured by Russian forces in March, soon after their invasion of Ukraine. It has repeatedly come under fire in recent months, raising fears of a nuclear disaster.
"I don't believe that (an agreement) is impossible, but it is not an easy negotiation," International Atomic Energy Agency (IAEA) Director General Rafael Grossi said in an interview with Italian public television RAI.
Grossi, who previously said he hoped to broker a deal on protecting the plant before the end of 2022, said talks with Kyiv and Moscow had become more complicated because they involve not just diplomats, but also military officers.
"It has become… a longer and more difficult (negotiating) table," said Grossi, who was speaking in Italian.
The IAEA chief said he planned to go back to Ukraine next week to meet President Volodymyr Zelenskiy and other top Ukrainian officials, and hoped later also to travel to Moscow.
Moscow and Kyiv have accused each other of shelling the Zaporizhzhia facility.
"They are playing with fire," Grossi said. "A nuclear accident is in nobody's interest, not even the Russians," he added.