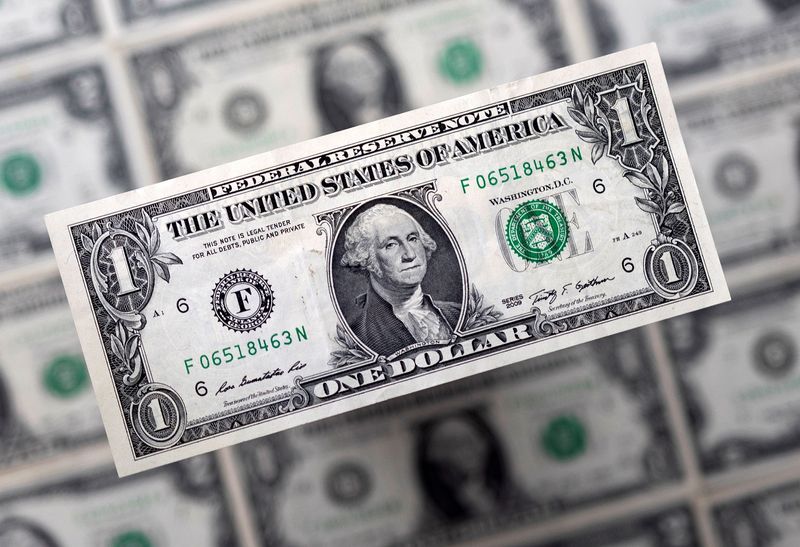 © Reuters. U.S. dollar banknotes are displayed in this illustration taken, February 14, 2022. REUTERS/Dado Ruvic/Illustration
By Michael S. Derby
NEW YORK (Reuters) – The Federal Reserve said Friday that it handed back substantially less money to the Treasury last year than it did the year before, amid rising interest expenses tied to its work to lower inflation.
The Fed said in a statement that in 2021 it handed back a preliminary $58.4 billion, compared to 2021's $107.9 billion. The Fed noted in September of last year net income turned negative and by September the central bank began recording what's called a deferred asset that tallies up the loss, which stood at $18.8 billion at the end of the year.
By law the Fed hands back any excess earnings to the Treasury after it covers its expenses. The Fed earns money from interest on bonds it owns and from services it provides to the financial sector. Fed officials have said the net negative income they are now operating under does not affect their monetary policy actions.
The turn to technical losses for the Fed is driven by the central bank's aggressive rate rise campaign last year, which saw it raise its rate target from near zero levels to between 4.25% to 4.5% by year's end. That sharply increased the amount of interest expenses faced by the central bank last year.
In 2022, the Fed says that interest expenses surged to $102.4 billion last year, from 2021's $5.7 billion.