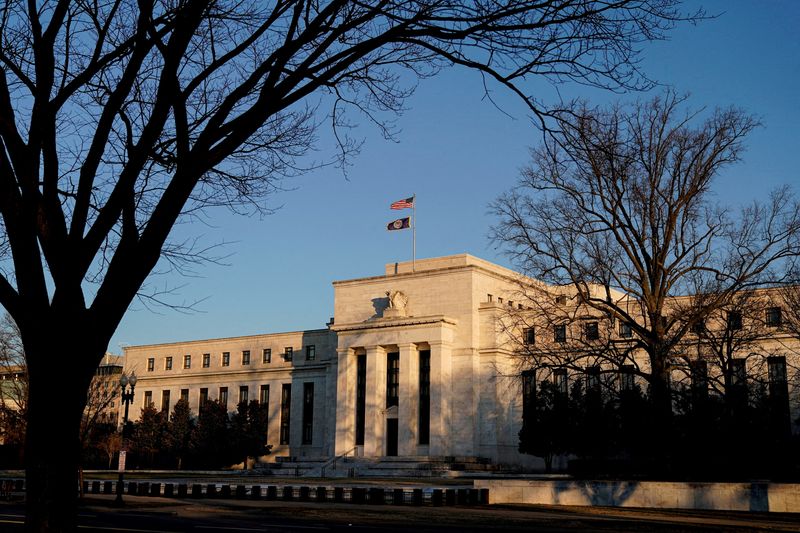 © Reuters. FILE PHOTO: The Federal Reserve building is seen in Washington, U.S., January 26, 2022. REUTERS/Joshua Roberts
By Howard Schneider and Ann Saphir
(Reuters) – U.S. Federal Reserve Governor Christopher Waller, one of the leading inflation hawks and an advocate last year of aggressive rate increases, supports scaling back to quarter-point rate hikes at the Fed's next meeting, all but cementing another step down in the pace of the central bank's monetary tightening.
"Based on the data in hand at this moment, there appears to be little turbulence ahead, so I currently favor a 25-basis point increase at the (Federal Open Market Committee's) next meeting," on Jan. 31-Feb. 1, Waller said in comments prepared for delivery at the Council on Foreign Relations in New York.
Waller said he remained "cautious" about the path of inflation and expected it would take "continued tightening of monetary policy" to return the rate of price increases to the Fed's 2% target.
But he headlined his remarks "A Case for Cautious Optimism," and noted that signs of slowing in the economy, from moderating consumer spending to a dip in manufacturing output, were consistent with the Fed's hope of curbing overall demand without squelching it altogether.
That process seems to be underway, Waller said, all while the unemployment rate remains, at least so far, at a half-century low of 3.5%.
"We still have a considerable way to go toward our 2% inflation goal…I am cautious about the recent good news" showing inflation and wages continuing to moderate, he said. "But it is good news. We have made progress. Six months ago, when inflation was escalating and economic output had flattened, I argued…that it was quite plausible to make progress on inflation without seriously damaging the labor market. So far, we have managed to do so, and I remain optimistic that this progress can continue."
The Fed used a series of aggressive-three-quarter point rate increases last year to push the target federal funds rate from near zero to a range between 4.25% and 4.5%. At the Fed's last meeting in December, however, policymakers eased the pace and approved just a half-point increase.
Speculation has focused since then on whether they would take another step back and begin moving in the quarter point increments more common for the U.S. central bank in recent years – an outcome already priced in by investors.
While supporting the use of quarter point hikes, Waller did not indicate in his prepared remarks how much further he feels rates need to rise from here.