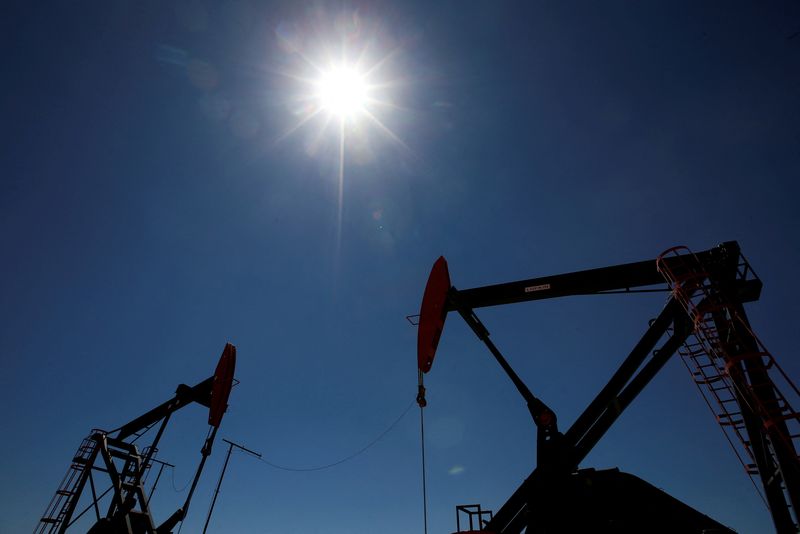 © Reuters. FILE PHOTO: Oil rigs are seen at Vaca Muerta shale oil and gas drilling, in the Patagonian province of Neuquen, Argentina January 21, 2019. REUTERS/Agustin Marcarian/File Photo
By Yuka Obayashi
TOKYO (Reuters) – Oil prices edged higher on Wednesday, hovering at a new 10-month high hit the previous day, as expectations of tighter global supply and fears of supply disruption in Libya outweighed concerns of slower demand in some countries such as China.
The international benchmark futures rose 8 cents, or 0.1%, to $92.14 a barrel by 0054 GMT, while U.S. West Texas Intermediate (WTI) crude climbed 14 cents, or 0.2%, to $88.98 a barrel.
Both benchmarks surged nearly 2% on Tuesday to close at their highest levels since November 2022.
"Bullish demand outlook by the OPEC and the U.S. Energy Information Administration's (EIA) prediction of a decline in global oil inventories reinforced market views of tightening supply going forward," said Satoru Yoshida, a commodity analyst with Rakuten Securities.
The news of OPEC member Libya shutting four of its eastern oil export terminals due to a deadly storm also lent support to oil prices, he added.
"But further gains may be limited as there is also downside pressure from lingering worries over weaker demand in China," Yoshida said.
The Organization of the Petroleum Exporting Countries (OPEC) stuck to its forecasts for robust growth in global oil demand in 2023 and 2024, citing signs that major economies are faring better than expected despite headwinds such as high interest rates and elevated inflation.
Keeping supplies tight, Saudi Arabia and Russia last week extended voluntary supply cuts of a combined 1.3 million bpd to year end. OPEC, Russia and allied producers are known as OPEC+.
The EIA, meanwhile, said global oil inventories were expected to decline by almost a half million bpd in the second half of 2023, causing oil prices to rise with Brent averaging $93 per barrel in the fourth quarter.
But oil, distillate and gasoline stockpiles rose last week, according to market sources citing American Petroleum Institute (API) figures on Wednesday.
Crude stocks rose by about 1.2 million barrels in the week ended Sept. 8, against analysts estimate of a draw of about 1.9 million barrels. Gasoline inventories rose by about 4.2 million barrels, while distillate inventories rose by about 2.6 million barrels.