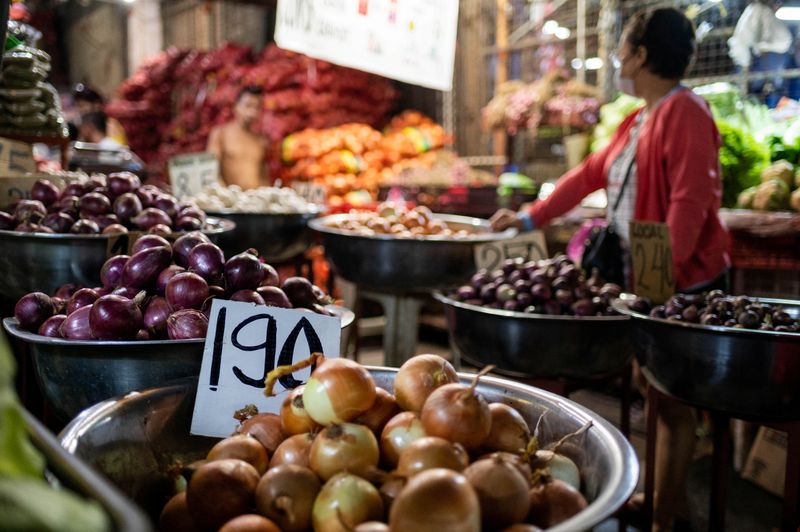 © Reuters. FILE PHOTO-Onions are displayed at a stall at a public market in Manila, Philippines, January 28, 2023. REUTERS/Lisa Marie David/File Photo
MANILA (Reuters) -The Philippine central bank is ready to raise interest rates if necessary as the country is not yet out of the inflation woods, its governor said.
"If supply side shocks are large enough and they are not compensated by weaker demand, then yes we will have to raise again," Bangko Sentral ng Pilipinas Governor Eli Remolona told CNN Philippines late on Thursday.
Remolona's remarks came ahead of the release of official data that showed annual inflation eased for a sixth straight month in July due to slower increases in food and utility costs.
The consumer price index rose 4.7% in July, the statistics agency said on Friday, its slowest annual increase since March 2022. It was below the 5.0% forecast in a Reuters poll.
July's inflation print brought year-to-date inflation to 6.8%, well outside the central bank's 2%-4% target for the year.
Core inflation, which strips out volatile food and fuel items, slowed to 6.7% in July, falling from 7.4% in the previous month.
Crop losses due to typhoons, wage and transport fare increases pose upside risks to inflation, Remolona said.
"We worry about the effects of these things on (inflation) expectations," Remolona said. "We are not ready to ease."
The central bank, which next meets on Aug. 17, has kept interest rates steady at its last two meetings after nine rate hikes totalling 425 basis points that brought its key policy rate to 6.25%.
Despite slower inflation, ING Economist Nicholas Mapa said in a post the central bank could only consider rate cuts when inflation fell within the target and if the Federal Reserve, which last week delivered its 11th rate increase, begins easing.