World 12 minutes ago (Jan 27, 2023 01:27PM ET)
2/2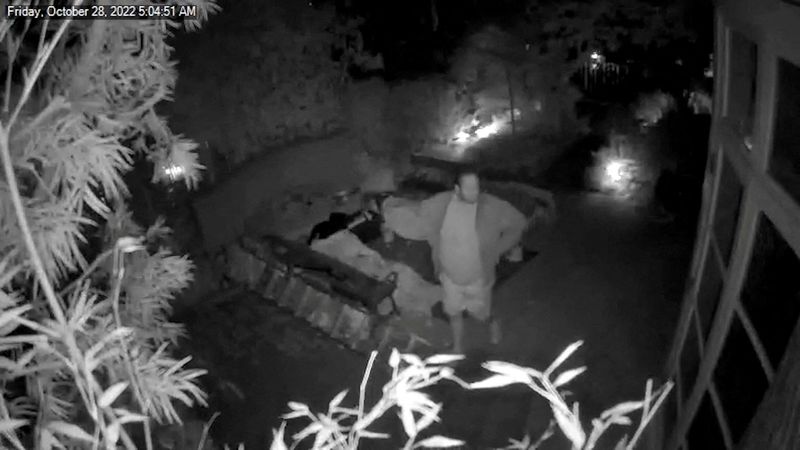 © Reuters. A screenshot of Capitol Police security footage shows David DePape outside the home of then-House Speaker Nancy Pelosi on October 28, 2022, in San Francisco, California, U.S. San Francisco District Attorney/Handout via REUTERS THIS IMAGE HAS BEEN SUPPL
WASHINGTON (Reuters) – San Francisco police released dramatic video footage on Friday of former U.S. House Speaker Nancy Pelosi's husband, Paul Pelosi, being struck by a hammer as police rushed in to stop his attacker.
The police body camera footage was released alongside a surveillance video showing the alleged attacker, David DePape, 42, smashing through a glass window to get into the couple's San Francisco home as well as a 911 call from a distressed Paul Pelosi, who was talking to the dispatcher with DePape apparently beside him.
In the body cam footage, two police officers knock on the door at the Pelosis' home. When the door opens, Pelosi and DePape can both be seen clutching a large hammer.
DePape tells police officers that, "Everything's good," at which point the officers instruct him to drop the hammer.
DePape then appears to tear the hammer fully away from Pelosi, who is in sleep wear, before striking Pelosi with a powerful overhand blow. The two officers then charge inside – one of them shouting an expletive – tackling DePape.
DePape has been indicted on federal attempting kidnapping and assault charges, as well as state charges of attempted murder, assault with a deadly weapon, burglary, elder abuse, false imprisonment and threatening a public official.
He has pled not guilty to the state charges.