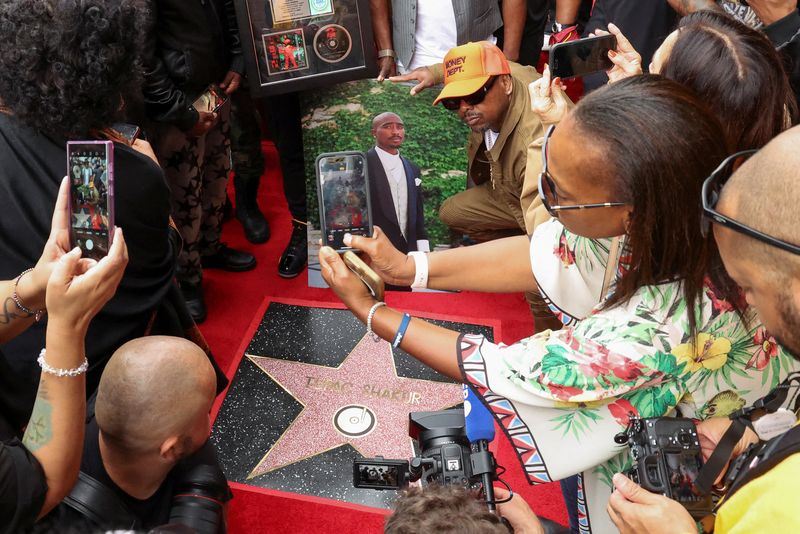 © Reuters. People take pictures of Rapper Tupac Shakur star during its posthumous unveiling ceremony on the Hollywood Walk of Fame in Los Angeles, California, U.S. June 7, 2023. REUTERS/Mario Anzuoni/File Photo
By Rachel Nostrant
(Reuters) – Nevada police have searched a house outside of Las Vegas in connection with the 1996 killing of hip-hop star Tupac Shakur, who was shot to death in the city nearly three decades ago, the Las Vegas Metropolitan Police Department said on Tuesday.
No additional information regarding who owned the house or what led police to conduct the search was given.
In a press release, the department said it "can confirm a search warrant was served in Henderson, Nevada on July 17, 2023, as part of the ongoing Tupac Shakur homicide investigation."
The department, whose jurisdiction includes the suburb of Henderson where the search was conducted, declined to provide further comment.
Shakur was shot in a drive-by shooting on Sept. 7, 1996 and died in a hospital six days later at the age of 25. No arrests have ever been made in the case.
The award-winning rapper, activist and actor was posthumously honored with a star on the Hollywood Walk of Fame in June, having sold more than 75 million records worldwide.