2/2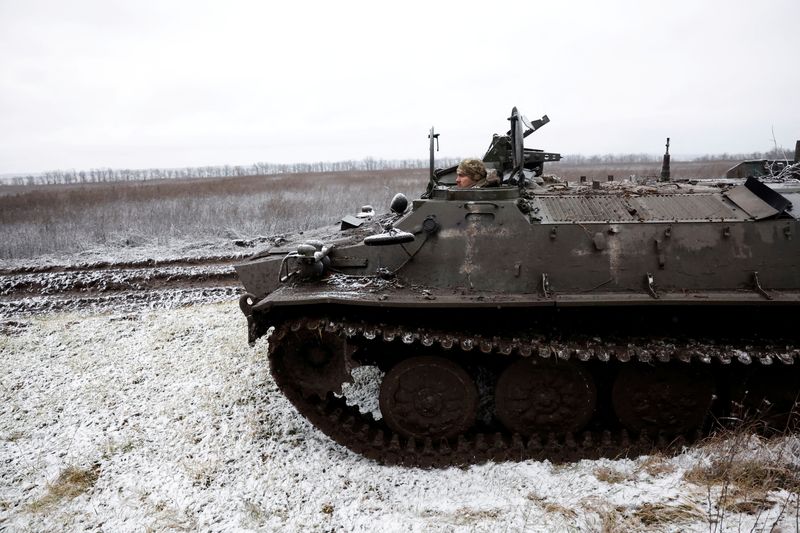 © Reuters. FILE PHOTO: Vlad from the 80th Separate Air Assault Brigade drives an APC on the front line at Orthodox Christmas, during a ceasefire announced by Russia over the Orthodox Christmas period, from the frontline region of Kreminna, Ukraine, January 6, 2023.
(Reuters) – A Russian rocket strike on the Ukrainian city of Kramatorsk caused damage but did not destroy buildings and there were no obvious signs of casualties, a Reuters witness said on Sunday, after Russia said the attack killed 600 Ukrainian soldiers.
FIGHTING
* The ministry said the strike was revenge for Ukraine's New Year's Day attack that killed at least 89 Russian soldiers at a barracks in part of the Donetsk region controlled by Moscow's forces.
* However, Reuters reporters visited the two college dormitories Russia's defence ministry said had been temporarily housing Ukrainian servicemen close to the front line of the war at the time of the overnight strike. Neither appeared to have been directly hit by missiles or seriously damaged. There were no obvious signs that soldiers had been living there and no sign of bodies or traces of blood.
* Two thermal power plants were damaged by Ukrainian shelling in Russian-controlled parts of the country's Donetsk region with preliminary reports of injuries, Moscow-installed officials said on Sunday.
* Serhiy Haidai, governor of Luhansk in eastern Ukraine, said on TV on Sunday there was heavy fighting in the region and Russian forces had deployed their most combat-ready units and heavy equipment to the city of Kriminna that they occupy, which he said meant the Russians were slowly retreating in the region.
* With nighttime temperatures dipping to minus 15-17 Celsius (5 to 1 Fahrenheit), fighting activity would soon increase as hard frosts mean it is easier to move heavy equipment, Haidai added.
* Shellfire echoed on Saturday around the near-deserted streets of the Ukrainian town of Bakhmut, focus of the most intense fighting in Russia's invasion. Reuters could not ascertain the origin of the shells heard in Bakhmut.
* The founder of Russia's highest-profile mercenary organisation, the Wagner group, said he wanted his forces and the regular Russian army to capture Bakhmut because it possessed "underground cities" that can hold troops and tanks.
DIPLOMACY
* Russia and Ukraine each returned 50 captured soldiers in the latest prisoner swap in the war. Ukraine said the returnees included fighters from Mariupol and Chernobyl. Freed Ukrainian's sang the national anthem on their release.
* Russia and Belarus will hold joint aviation drills of the air divisions that are part of the two countries' regional grouping of troops. The drills will last from Jan. 16 to Feb. 1.
* Justice ministers from around the world will gather in London in March to boost international support for the International Criminal Court in its investigations of alleged war crimes in Ukraine, the British government said.
CHRISTMAS
* Tears of joy streamed down worshippers' faces as Ukraine's main church celebrated a "return" to Kyiv's Cathedral of the Assumption on Orthodox Christmas day, shortly after taking control of it from a rival church with alleged ties to Russia.
* President Vladimir Putin praised the Russian Orthodox Church for supporting Moscow's forces fighting in Ukraine in an Orthodox Christmas message designed to rally people behind his vision of modern Russia.