5/5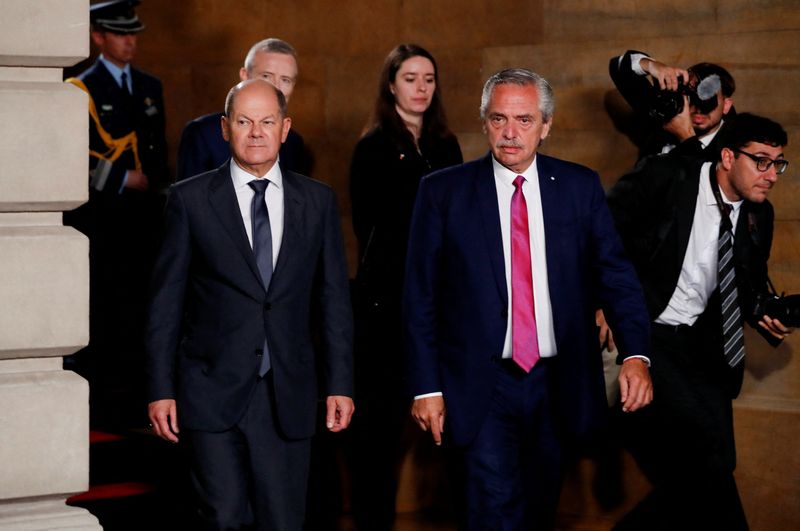 © Reuters. German Chancellor Olaf Scholz and Argentina's President Alberto Fernandez walk as they hold a news conference, at the Foreign Ministry building Palacio San Martin in Buenos Aires, Argentina, January 28, 2023. REUTERS/Agustin Marcarian
By Sarah Marsh
SANTIAGO (Reuters) -Argentina and Chile's leaders dialed down hope they might lend more support for Ukraine during German Chancellor Olaf Scholz's inaugural South America tour, underscoring ongoing differences between the West and its allies in lower-income countries.
On the first two legs of his whistle-stop trip, Scholz has sought to stress unity, noting all three countries he is visiting – Argentina, Chile and Brazil – condemned Russia's invasion at the United Nations General Assembly last year.
The fallout of the war and Western sanctions on Russia such as soaring food and energy prices, however, have hit the region particularly hard, raising questions over the West's approach. Skepticism also abounds about interventionism given its own past.
On the first two legs of his trip this weekend, Scholz's Argentine and Chilean counterparts stressed they wanted to see a peaceful resolution of the conflict but dialed back expectations of further support for Ukraine.
"Argentina and Latin America are not planning to send weapons to Ukraine or any other conflict zone," Argentine President Alberto Fernandez said during a joint news conference in Buenos Aires with Scholz on Saturday.
Chilean President Gabriel Boric defended his condemnation of the invasion despite the fact "some media or opinion makers could believe it was a bad decision to get involved in the politics of other countries".
Dodging a question about whether he agreed with Fernandez on weapons, he said Chile had promised to help Ukraine rebuild after the war, for example clearing mines.
In both countries, Scholz visited memorials to the victims of their military dictatorships that he said underscored the need to fight for democracy and freedom.
"At this memorial to the many victims of the dictatorship here I cannot help but think of the young people who are being killed in Iran because they are fighting for freedom and a better life," he said in Buenos Aires.
German government officials say it is understandable Latin American countries have diverging views on the causes of the war and how to handle it, but highlight the importance of continuing to convey the Western perspective – as Scholz has also done in Africa and Asia.
On Monday, Scholz landed for the last leg of his tour in Brazil, where he is set to become the first Western leader to meet with President Luiz Inacio Lula da Silva since his inauguration earlier this month.
European wants to reset relations with South America's largest country following the exit of the divisive far-right former President Jair Bolsonaro.
The resilience of democracy is likely to be high on the agenda for talks given the storming of government buildings earlier this month by Bolsonaro supporters.
Still, differences can once more be expected. Last year, Lula said Russia never should have invaded Ukraine, but added that Ukrainian President Volodymyr Zelenskiy was as much to blame for the war as Russian leader Vladimir Putin.