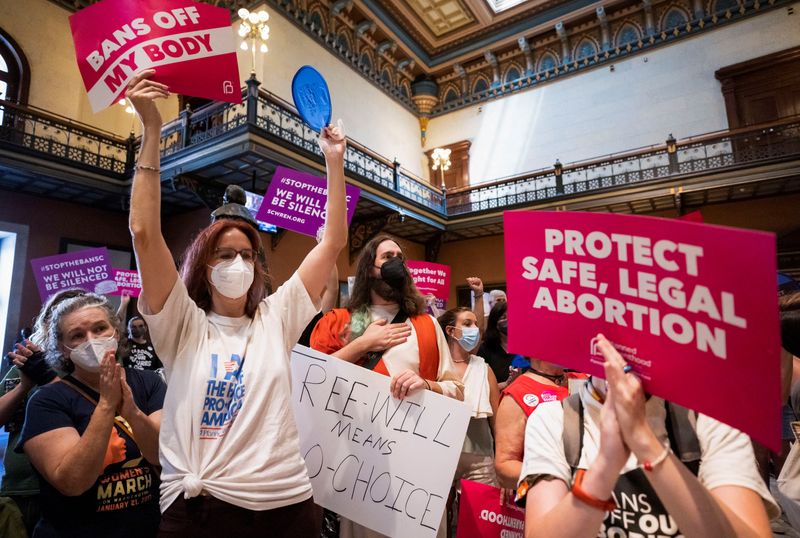 © Reuters. FILE PHOTO: Protesters gather inside the South Carolina House as members debate a new near-total ban on abortion with no exceptions for pregnancies caused by rape or incest at the state legislature in Columbia, South Carolina, U.S. August 30, 2022. REUTE
By Gabriella Borter
(Reuters) -South Carolina's Supreme Court on Thursday ruled that a state law banning abortion after about six weeks of pregnancy is unconstitutional because it violates a right to privacy, handing a major win to abortion rights supporters in the U.S. South.
The 2021 law, which banned abortion after about six weeks of pregnancy and often before a woman knows she is pregnant, took effect after the U.S. Supreme Court in June eliminated the longstanding right to abortion that had been established by the 1973 Roe v. Wade case.
Planned Parenthood challenged the law, and the state Supreme Court, comprised of five justices, blocked it in August pending a decision in the case.
"We hold that our state constitutional right to privacy extends to a woman's decision to have an abortion," Justice Kaye Hearn wrote in the 3-2 opinion released on Thursday.
The ruling will provide broader legal protections for abortion access in the Southern state, which is a neighbor to many states that have banned abortion in most cases since the overturn of Roe v. Wade.