3/3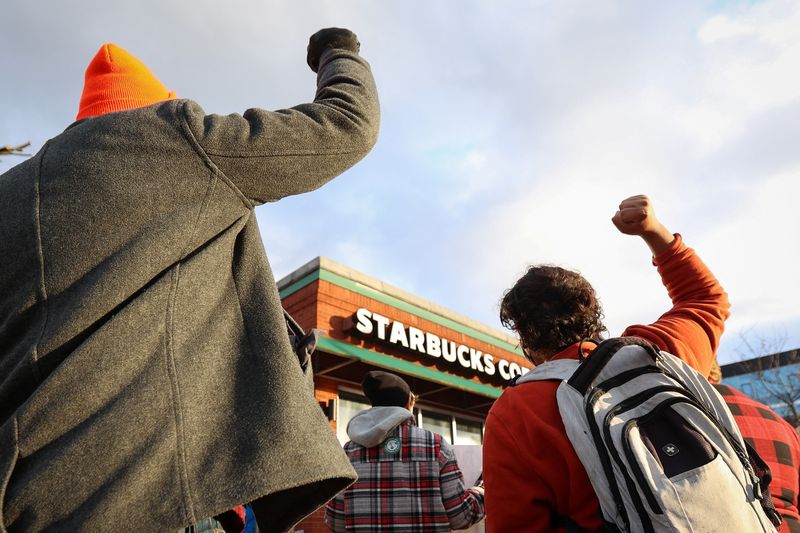 © Reuters. Starbucks workers attend a rally as they go on a one-day strike outside a store in Buffalo, New York, U.S., November 17, 2022. REUTERS/Lindsay DeDario
By Jonathan Stempel
NEW YORK (Reuters) -Starbucks violated U.S. labor law by firing a Manhattan store supervisor who had organized workers to join a union, a federal labor board judge ruled on Monday.
The National Labor Relations Board established "striking and strong evidence of animus" behind Starbucks (NASDAQ:)' termination of Rhythm Heaton as a shift supervisor at its Astor Place store, NLRB Administrative Law Judge Benjamin Green wrote.
Green found it "particularly suspicious" that Starbucks would risk violating the law "by discharging an excellent employee at a time when the short-handed Astor Place store was already advertising to hire another shift supervisor."
The decision can be appealed to NLRB board members in Washington and thereafter to federal court.
Starbucks said it disagreed with the decision and was exploring its legal options.
"Heaton was separated from our Astor Place store following progressive discipline for violations of established cash-handling and time and attendance policies – not in retaliation for their participation in, or support of, any concerted union activities," it said.
Carley Russell, a lawyer for Heaton, said the decision benefits workers seeking "more democratic workplaces" by showing that Starbucks cannot "crush the union with impunity."
Heaton was hired as a barista in 2018 and promoted to shift supervisor in early 2021, and regularly worked extra shifts because the COVID-19 pandemic led to short-staffing.
According to the decision, Heaton began encountering resistance from Starbucks in late 2021 upon contacting Workers United, which represents baristas and shift supervisors at about 320 corporate-owned U.S. stores, and beginning to organize union activities.
The manager of the Astor Place store testified that he supported the union and considered Heaton an "amazing leader," but cited Heaton's alleged violation of Starbucks' "attendance and punctuality policy" in the termination notice.
Green ordered Seattle-based Starbucks to offer Heaton reinstatement with back pay, and to cease and desist from firing or disciplining employees for supporting Workers United or exercising their rights under federal labor law.
Starbucks has about 9,000 corporate-owned stores in the United States.