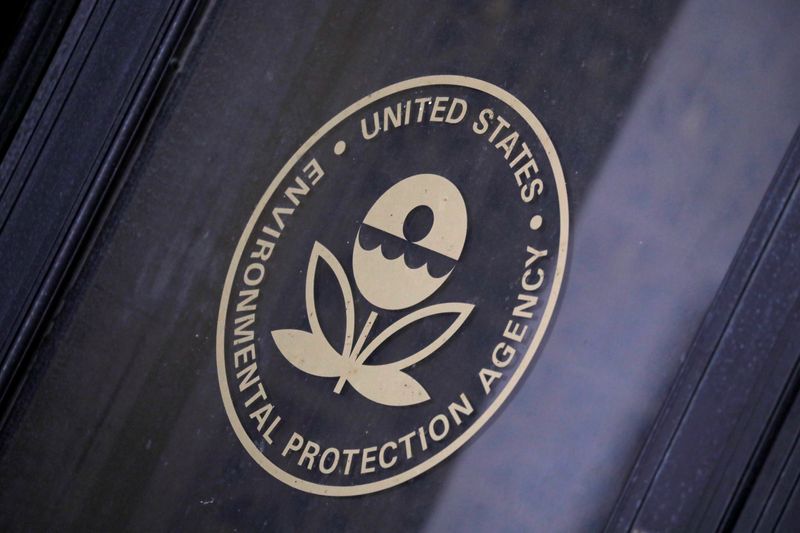 © Reuters. FILE PHOTO: Signage is seen at the headquarters of the United States Environmental Protection Agency (EPA) in Washington, D.C., U.S., May 10, 2021. REUTERS/Andrew Kelly/File Photo
By David Shepardson
WASHINGTON (Reuters) -A group of 25 Republican state attorneys general on Thursday urged President Joe Biden's administration to abandon plans to sharply cut vehicle tailpipe emissions, while a group of Democratic counterparts from 20 states urged more stringent requirements.
The Environmental Protection Agency in April proposed new 2027-2032 vehicle standards that would be the most dramatic reductions in history. The EPA estimates that to meet the new standards, automakers would need to have 60% of new production be electric vehicles by 2030 and 67% by 2032.
The rules would cut emissions by 56% from existing 2026 requirements to speed the transition away from gasoline-powered engines to electric vehicles. EPA is expected to finalize the proposal by spring 2024.
The agency projects the rules would cut more than 9 billion tons of CO2 emissions through 2055, hoping to mitigate catastrophic climate change and save consumers billions in fuel costs. Republicans say it will have broad negative consequences such as higher consumer vehicle prices, limited choice and strain on the electrical grid.
Democratic attorneys general from New York, California, Pennsylvania, Illinois and other states said the EPA should go further. "Strong emissions standards are necessary now to stave off the worst impacts of human-induced climate change," they said, along with officials from six cities including the District of Columbia, Chicago, New York and Los Angeles.
The Republican attorneys general, led by Kentucky's Daniel Cameron and West Virginia's Patrick Morrisey said the EPA proposal was "unlawful and misguided" and "would damage our economy, tax our electrical grids and the families and businesses who depend on them, and threaten our national security."
Environmental and public health groups are pressing the administration not to weaken its proposal. The American Lung Association, American Medical Association and other health groups said the EPA should adopt more stringent standards to "protect regional air quality, address disparities in pollution burdens and reduce the health impacts of the climate crisis."
Many Republican state attorneys general have sued the EPA over its 2021 restoration of the Obama-era standards that were rolled back under Republican former President Donald Trump. Those lawsuits are pending.
Last week, the trade group representing nearly all major automakers said it wants EPA to soften its proposal to sharply cut vehicle emissions, saying it is "neither reasonable nor achievable."
The Alliance for Automotive Innovation, which represents General Motors (NYSE:), Volkswagen (ETR:), Toyota (7203.T), Hyundai and others, recommended "adopting requirements for 40 to 50% (electric, plug-in electric and fuel vehicles) in 2030 with continued increases through 2032."
The group called the proposal a "de facto battery electric vehicle mandate" and noted that EVs represented about 6% of new light-duty vehicles sales in 2022. The American Petroleum Institute this week called the plan "a de facto ban on vehicles using gasoline."
Mazda said separately that it was worried about the "exceptional stringency" of the rule, while Ford Motor (NYSE:) said the EPA should "avoid setting criteria emissions requirements that will force unnecessarily large or ill-timed investments."