2/2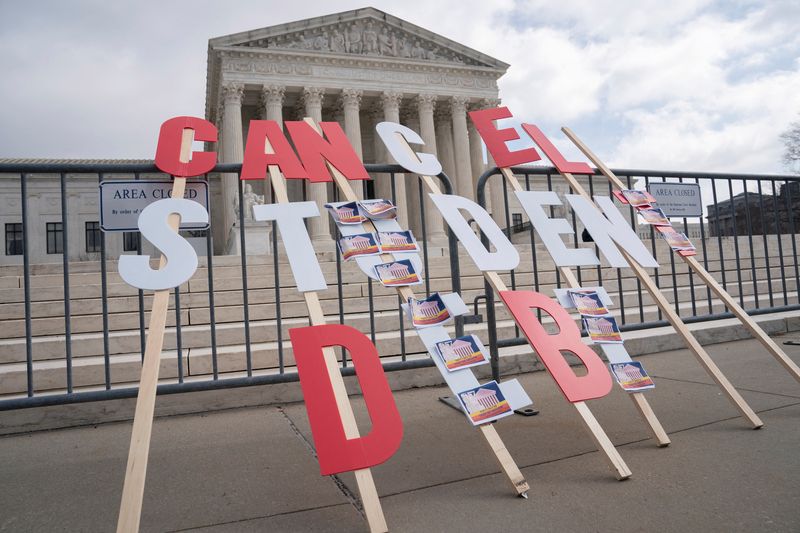 © Reuters. A sign calling for student loan debt relief is seen in front of the Supreme Court as the justices are scheduled to hear oral arguments in two cases involving President Joe Biden's bid to reinstate his plan to cancel billions of dollars in student debt in
By John Kruzel
WASHINGTON (Reuters) -The U.S Supreme Court handed President Joe Biden a painful defeat on Friday, blocking his plan to cancel $430 billion in student loan debt – a move that had been intended to benefit up to 43 million Americans and fulfill a campaign promise.
The Democratic president denounced the 6-3 decision – powered by the court's conservatives and written by Chief Justice John Roberts – and announced fresh steps to provide relief for student loan borrowers using a different approach.
The court sided with six conservative-leaning states – Arkansas, Iowa, Kansas, Missouri, Nebraska and South Carolina -that objected to Biden's student loan forgiveness. Its ruling dealt a blow to the 26 million borrowers who applied for relief after Biden announced the plan in August 2022 and represented a political setback for Biden.
"Today's decision has closed one path. Now we're going to pursue another," Biden said at the White House, announcing steps being taken under a law called the Higher Education Act. "I'm never going to stop fighting for you. We'll use every tool at our disposal to get you the student debt relief you need – and reach your dreams."
Roberts derided the Biden administration's argument that the loan forgiveness program – a move linked to the national emergency arising from the COVID-19 pandemic – was merely a modification of an existing program and noted that such broad action would require clear congressional approval.
"The secretary's plan has 'modified' the cited provisions only in the same sense that the French Revolution 'modified' the status of the French nobility – it has abolished them and supplanted them with a new regime entirely," Roberts wrote, referring to U.S. Secretary of Education Miguel Cardona.
"From a few narrowly delineated situations specified by Congress, the secretary has expanded forgiveness to nearly every borrower in the country," Roberts said.
The court's three liberal justices dissented. The court acted on its final day of rulings in its term that began in October.
The ruling invoked the "major questions" doctrine, a muscular judicial approach that gives judges broad discretion to invalidate executive agency actions of "vast economic and political significance" unless Congress clearly authorized them in legislation. The conservative justices previously used this doctrine to invalidate other Biden policies including pandemic-era eviction protections for residential renters and his COVID-19 vaccination-or-testing mandate for large businesses.
A CAMPAIGN PROMISE
Biden's plan fulfilled his 2020 campaign promise to cancel a portion of $1.6 trillion in federal student loan debt but was criticized by Republicans who called it an overreach of his authority and an unfair benefit to college-educated borrowers while other borrowers received no such relief.
Under the plan, the U.S. government would forgive up to $10,000 in federal student debt for Americans making under $125,000 who obtained loans to pay for college and other post-secondary education and $20,000 for recipients of Pell grants to students from lower-income families.
The administration said the plan was authorized under a 2003 federal law called the Higher Education Relief Opportunities for Students Act, or HEROES Act, which lets the education secretary "waive or modify" student financial assistance during war or national emergencies.
Biden and his Republican predecessor Donald Trump both relied upon the HEROES Act to repeatedly pause student loan payments and halt interest from accruing to alleviate financial strain on student loan borrowers during the COVID-19 pandemic.
Cardona said the Education Department now has finalized an income-driven loan repayment plan that cuts monthly payments to zero for millions of low-income borrowers, saves all other borrowers at least $1,000 annually and stops runaway interest that leaves borrowers owing more than their initial loan.
The department, Cardona said, also will provide a 12-month transition period to help borrowers successfully return to repayment without falling into delinquency or default. It will help borrowers avoid the harshest consequences of missed, partial or late payments like negative credit reports and having loans referred to collection agencies, Cardona added.
Biden, who is seeking re-election next year, criticized Republican elected officials who opposed his plan.
"They had no problem with billions in pandemic-related loans to businesses – including hundreds of thousands and in some cases millions of dollars for their own businesses," Biden said.
Some 53% of respondents supported Biden's debt relief, with 45% opposed, in a March Reuters/Ipsos U.S. poll.
The major questions doctrine arises from an approach favored by many conservatives and business groups to rein in what they view as excesses of the "administrative state." They object to what they consider accumulated power by the executive branch without proper checks by the courts and Congress.
Justice Elena Kagan, in a dissent joined by her two fellow liberals, derided this doctrine as "made-up."
"Small wonder the majority invokes the doctrine," Kagan wrote. "The majority's 'normal' statutory interpretation cannot sustain its decision. The statute, read as written, gives the Secretary broad authority to relieve a national emergency's effect on borrowers' ability to repay their student loans."
Two individual borrowers opposed to the plan's eligibility requirements also sued but the justices dismissed their challenge on Friday due to a lack of legal standing.