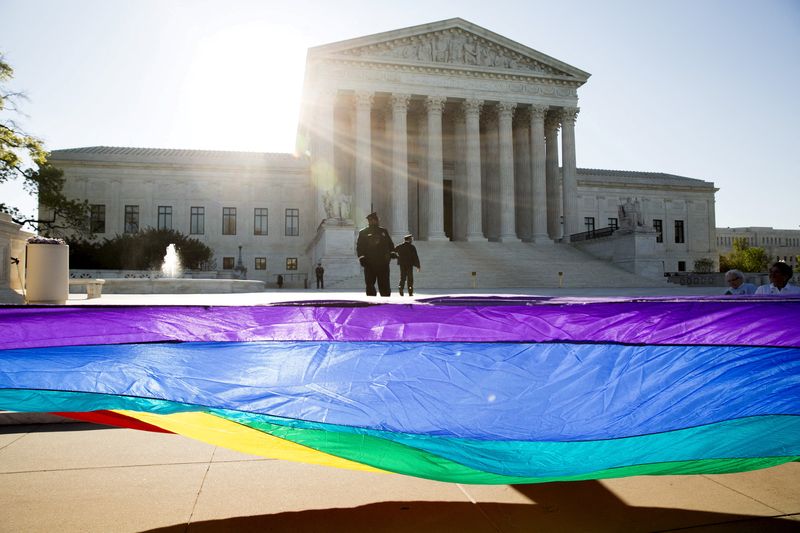 © Reuters. FILE PHOTO: Gay marriage supporters hold a gay rights flag in front of the Supreme Court before a hearing about gay marriage in Washington April 28, 2015. REUTERS/Joshua Roberts/File Photo
By Andrew Chung
(Reuters) – The U.S. Supreme Court's conservative-majority ruling letting certain businesses refuse to provide services for same-sex marriages could impact an array of customers beyond LGBT people, according to the court's liberal justices. But experts were divided over how far this ripple effect could spread.
Friday's ruling protected Denver-area web designer Lorie Smith from having to create websites for same-sex marriages, which she opposes based on her Christian faith, despite a Colorado anti-discrimination law that aims to ensure that businesses that serve the public treat all customers equally.
The 6-3 ruling written by conservative Justice Neil Gorsuch concluded that requiring businesses whose services involve speech to express a message that they do not believe violates the U.S. Constitution's First Amendment, which protects freedom of speech.
"Colorado seeks to force an individual to speak in ways that align with its views but defy her conscience about a matter of major significance," Gorsuch wrote.
Colorado's Anti-Discrimination Act bars businesses open to the public from denying goods or services to people because of race, gender, sexual orientation, religion and certain other characteristics, and from displaying a notice to that effect.
The case was framed by Smith's lawyers as one targeting messages, not people, that would impact the ability of business owners who creatively express themselves through their work to refuse to put forth certain messages, rather than discriminating against people based on their status. Smith said, for instance, she would happily serve an LGBT customer who wants graphics for an animal shelter.
Critics said that distinction between message and status was not so clear-cut and could quickly veer into targeting people instead.
The ruling prompted a blistering 38-page dissent by Justice Sonia Sotomayor, joined by fellow liberal Justices Elena Kagan and Ketanji Brown Jackson, warning that it provided a "license to discriminate."
The ruling takes LGBT rights backwards, Sotomayor wrote. Beyond letting businesses deny services, Sotomayor added, it creates "stigmatic harm" and reminds "LGBT people of a painful feeling that they know all too well: There are some public places where they can be themselves, and some where they cannot. … It is an awful way to live."
The ruling's rationale cannot be limited to discrimination based on sexual orientation or gender identity and could exclude other groups from many services, Sotomayor said.
Sotomayor gave examples of those who might face discrimination from businesses including interracial couples, disabled people and people in non-traditional families.
Colorado Attorney General Phil Weiser, whose office defended the state's anti-discrimination law, offered further examples.
"A payroll company may read today's opinion as license to refuse service to women-owned businesses because the business owner believes women should not work outside the home. A bookseller of religious texts may believe it can refuse to sell books to a member of the Church of Jesus Christ of Latter-day Saints because he doesn't believe it to be a legitimate religion," Weiser said.
'PURE FICTION'
Gorsuch responded in his opinion, suggesting these concerns were, "Pure fiction all." The ruling is centered on a case in which even the state agreed that Smith's work is expressive and she intends to provide customized speech for each client, Gorsuch said.
"Doubtless, determining what qualifies as expressive activity protected by the First Amendment can sometimes raise difficult questions. But this case presents no complication of that kind," Gorsuch wrote.
LGBT rights group Lambda Legal condemned the ruling but said its impact would be blunted because few commercial businesses involve taking specific commissions and offering to them original artwork and speech as the parties in Smith's case agreed that she did.
"But today's narrow decision does continue the court majority's dangerous siren call to those trying to return the country to the social and legal norms of the 19th century," Lambda Legal's chief legal officer Jennifer Pizer said.
Amanda Shanor, an expert in constitutional law and free speech at the University of Pennsylvania's Wharton School, said the ruling was narrow and failed to resolve "how to approach the question of whether something is a regulation of speech or conduct, message or status."
Shanor added: "I think the most important wider impact will be more litigation."