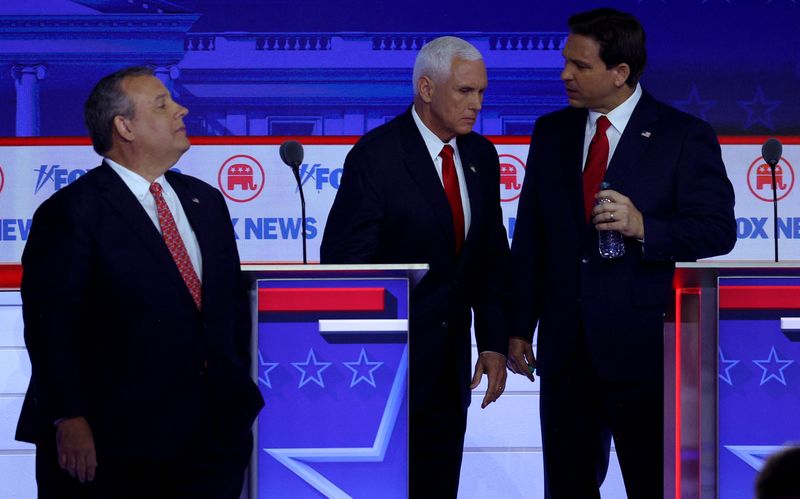 © Reuters. Former New Jersey Governor Chris Christie walks past as former U.S. Vice President Mike Pence talks with Florida Governor Ron DeSantis during a commercial break at the first Republican candidates' debate of the 2024 U.S. presidential campaign in Milwaukee
By Josephine Walker
(Reuters) – Here is a selection of quotes from the 2024 Republican presidential candidates at their first debate in Milwaukee on Wednesday.
FLORIDA GOVERNOR RON DESANTIS
On abortion: "I'm going to stand on the side of life. Look, I understand, Wisconsin is going to do it different than Texas … But I will support the cause of life as governor and as president."
FORMER NEW JERSEY GOVERNOR CHRIS CHRISTIE
On Ramaswamy: "I've had enough. I've had enough, already tonight, of a guy who sounds like ChatGPT standing up here. And the last person in one of these debates, Brett, who stood in the middle of the stage and said, 'What's a skinny guy with an odd last name doing up here', was Barack Obama. And I'm afraid we're dealing with the same type of amateur standing on the stage tonight."
TECH ENTREPRENEUR VIVEK RAMASWAMY
"I am genuinely worried that that American dream will not exist … unless we do something about it. And I do think it's going to take an outsider … because for a long time, we have professional politicians in the Republican Party who have been running from something. Now is our moment to start running to something. To our vision of what it means to be an American today.
"I'm the only person on this stage who isn't bought and paid for, so I can say this: The climate change agenda is a hoax."
FORMER VICE PRESIDENT MIKE PENCE
On Vivek Ramaswamy: "Now is not the time for on-the-job training. We don't need to bring in a rookie, we don't need to bring in people without experience."
"Let me explain it to you (Ramaswamy) this time. I'll go slower this time … Now is not the time for on the job training."
FORMER U.N. AMBASSADOR NIKKI HALEY
"Can't we all agree that we're not going to put a woman in jail or give her the death penalty if she gets an abortion? Let's treat this like the respectful issue that it is and humanize the situation and stop demonizing that situation."
US SENATOR TIM SCOTT OF SOUTH CAROLINA
"If we want the environment to be better, and we all do, the best thing to do is to bring our jobs home from China. If we create 10 million new jobs in my Made in American plan, we will have a better economy and a better environment."
On abortion: "We must have a president of the United States who will advocate and fight for the minimum a 15 week limit."
FORMER ARKANSAS GOVERNOR ASA HUTCHINSON
"We need somebody who can actually constrain the growth of federal government, that can actually reduce the size and I've pledged to reduce by 10% our federal non-defense workforce. That's a specific pledge to make that attacks the administrative state."