2/2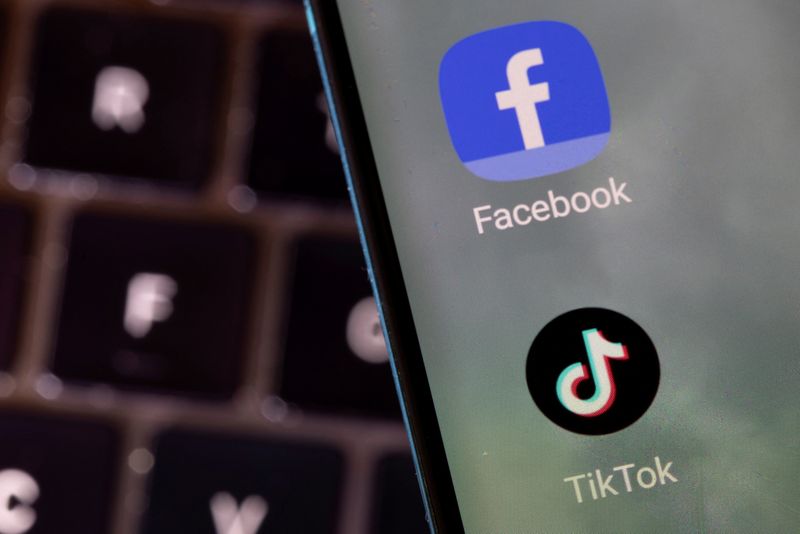 © Reuters. FILE PHOTO: Facebook and TikTok apps are seen on a smartphone in this illustration taken February 27, 2022. REUTERS/Dado Ruvic/Illustration/File Photo
(Reuters) -Seattle's public school district filed a lawsuit against Big Tech claiming that the companies were responsible for a worsening mental health crisis among students and directly affected the schools' ability to carry out their educational mission.
The complaint, filed on Friday against Alphabet (NASDAQ:) Inc, Meta Platforms Inc (NASDAQ:), Snap Inc (NYSE:) and TikTok-owner ByteDance with the U.S. District Court, claimed they purposefully designed their products to hook young people to their platforms and were creating a mental health crisis.
In emailed statements to Reuters, Google said it has invested heavily in creating safe experiences for children across its platforms and has introduced "strong protections and dedicated features to prioritize their well being," while Snap said it works closely with many mental health organizations to provide in-app tools and resources for users and that the well-being of its community is its top priority.
Meta Platforms and TikTok did not immediately respond to Reuters' request for comment. In the past, the companies have said they aim to create an enjoyable experience for users and exclude harmful content and invest in moderation and content controls.
The lawsuit says the companies' actions have been a substantial factor in causing a youth mental health crisis.
"Defendants have successfully exploited the vulnerable brains of youth, hooking tens of millions of students across the country into positive feedback loops of excessive use and abuse of Defendants' social media platforms," the lawsuit said.
Students with mental health issues perform worse, causing schools to take steps including training teachers to identify and address such symptoms, hire trained personnel, and create additional resources to warn students about the dangers of social media, the complaint said.
The lawsuit seeks compensation for monetary damages and other penalties.
In 2021, U.S. lawmakers accused Facebook CEO Mark Zuckerberg of pushing for higher profits at the expense of children's mental health following testimony by whistleblower Frances Haugen. Facebook has consistently said it disagrees with Haugen's characterization that the company failed to protect teen girls on Instagram.
"The argument that we deliberately push content that makes people angry for profit is deeply illogical," he posted on his Facebook page in response. "We make money from ads, and advertisers consistently tell us they don't want their ads next to harmful or angry content. And I don't know any tech company that sets out to build products that make people angry or depressed."